SAM AND MILDRED BOWEN
LIVES AND CHILDREN




HISTORY - PAGE 5
1951
Winter/Spring

Richmond, Virginia
Dad was reassigned to duty at The Richmond Quartermaster Depot (Bellwood Depot) - later renamed Defense General Supply Center (DGSC) in Richmond, Virginia.
We moved from Ft. Bragg into a very small apartment in the Bel Meade Apartment Complex, Richmond, Va. I completed my 8th grade school year at Bainbridge Junior High in Richmond.
After the school year was over Dad and Mom purchased what was to become our Family Home at 52 Manor Road, Richmond, Va. The address was later changed to 9633 Telstar Drive - a name chosen by the home owners. Our home was situated in the south end of Richmond, Chesterfield County, in a friendly, family oriented community known as Centralia Gardens. There were frequent neighborhood picnics, bingo parties, etc. It was a very happy move!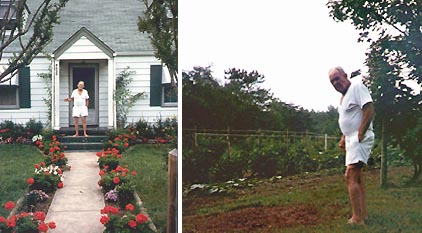 Dad at Front Door and in Garden out back
1952
July 11
Ft. Lee, Virginia

Madeline Chloe Bowen was born

A precious new little sister to love!
Mom and Dad decided her name was to be a family decision with input by all. It was such fun trying to decide on the perfect name for the perfect, beautiful new addition to our family.
Dad was going to take us to meet her at the hospital as we did Dorene. Would you believe they had the nerve to put mama in a 2nd floor room! Dad did take us to the hospital so he could go in and hold her up to the window for us to see. Such excitement! Love at first sight! I had a new toy to play with!
As a baby, Madeline was just too good. She never cried. Daddy was concerned that there must be something wrong with her, so one night he, on purpose, MADE HER CRY just to see if she could. Afterwards, crying was never a problem for her again. He taught her well.
1953
June 18
Ft. Lee, Virginia
Teresa and Geraldine Bowen Were Born

(identical twins)

The entire time Mama was pregnant with the twins, daddy would tease, "If it's another snot-nosed girl, I'm going to throw her in the James River!" Naturally he was just teasing to get a reaction from us. He would never dream of doing anything like that.
On June 18, Daddy had to make a parachute jump. His friend did also. His friend's wife wanted to go watch. Since Mama was a couple months from her due date, I went to babysit for Dad's friend's children, several miles from home.
Mama went into labor and had to be rushed to the hospital. The neighbors agreed to care for my younger sisters until I could get home. Dad couldn't be reached. He was out in the toolies at some jump zone, likewise the parents of the children I was caring for. I could only wait for them to come home so they could take me home. It was a very long day......
As soon as the jump was over and Daddy notified, he rushed to the hospital to be with Mama.
When I was finally able to get home, I was SO ANGRY! My precious little 11 month old baby sister Madeline, sobbing as though she'd been crying for hours, was sitting in her crib. Her sheet, diaper, everything was saturated - wet from not being changed. There was a bottle in the crib with sour milk! I was so furious that the neighbors Mama had trusted would neglect her so! They were in the house, but evidently ignoring Madeline and her needs. I may have been just a teenager, but I still let everyone know exactly how I felt!
When Mama came to after giving birth, the nurse told her she had, not one, but twin girls. Because of Daddy's teasing, our "groggy" mother's first remark was, "Oh No, Sam will throw them in the James River!" Later she felt so foolish. Poor Daddy was really teased by the hospital staff.
Not expecting twins, we again began the name game. It was decided they would be named Teresa and Geraldine and called Terri and Gerri. Mama liked that.
The twins were so tiny and fragile. The birth weight for both was about 2 pounds. Teresa was the largest by just an ounce or two. They were so small, they were given a sugar\water solution, rather than formula, for several days. Mama was ready to come home on the 5th day. Our tiny twins, naturally were to remain at the hospital in an incubator. They were doing quite well. The doctor decided it was time to try feeding them a weak formula. Teresa, being the largest and strongest, drank the most.
Mama came home feeling good about their health. Almost as soon as she came in the door, the phone rang. It was the hospital. Teresa had developed dihrrea and had quickly died! Mama's pain was so great she could only lay across her bed and sob. Oh how it hurt to see Mama in such pain and not be able to do anything to help her.
Little Teresa was buried at Sunset Memorial Park in Chester, Va. She looked like a beautiful little doll rather than a baby. She was dressed in doll clothes - a tiny white dress and a dusty pink velvet bonnet - regular baby clothes were way to large. Losing a sister was such a sad thing for us all to endure!
Mama and Daddy would go to the hospital daily to see Gerri, who, by this time had been nicknamed "Buzzy" by the nurses. They said she was so tiny and weak her cry didn't sound like a cry, it was more like a little Buzzy Bee. Buzzy had to stay at the hospital for a couple months - she had to weigh 4 pounds before she could be safely released.
Finally the day came when we could finally meet Buzzy! Mama and Daddy brought her home with strict instructions concerning her care. She had to be fed more often than a normal size baby. We also had to watch her 24 hours a day, even when she was sleeping. There was the possibility she might choke. Mama and I took shifts watching her. She had to be taken back to the hospital frequently for blood tests, etc. Her progress closely monitored. It was a very hard, tiring time, but well worth it!
Because of the additional care and attention tiny Buzzy required, I mainly took care of little Madeline. I became her "Mama Faye". We grew extremely close. She'd cry if I had to leave her. When school started, she would run the length of the yard inside the fence, crying for me not to go. It would break my heart! I'd go to school in tears! I loved her so much! When I reached "dating age", it was a well known fact - If my little sister couldn't go, then I wouldn't! She went on lots of dates with me!
When I was a Junior in High School, I got the role of a black lady in our school play. In the play, my entrance was to stick my head in the door and look around. Opening night, my family all came. When I poked my head on stage, Madeline jumped up and shouted "There's my sweet mama!" I never lived that one down!
On the last day of school, I took Madeline with me. Mama had let me wear my favorite dress of hers. It had lots of tiny buttons. I carried her into a classroom with me. When I looked down, she had unbuttoned ALL THE BUTTONS!
Yes, she was my constant source of embarrasment, but I loved her so it didn't matter.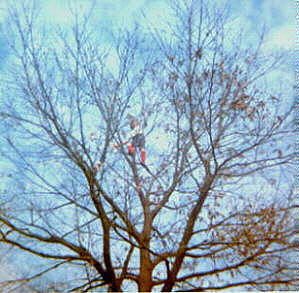 When Madeline and then Buzzy was born, Daddy picked up a maple seed from the Chesterfield Court House lawn and planted it in our back yard. It was such fun comparing size - trees and children as they grew. Those 2 huge maples are still there!
Mama taught us to love our fellowman, and Daddy taught us to love nature.
Mama made Buzzy a little white ruffled bottom bathing suit. She put it on her and filled the wading pool. Later she looked out - Buz and her little friends having fun in the water... Buzzy was NAKED! Her new bathing suit was neatly laying on the picnic bench. When Mama asked her about it, she told her that she didn't want to get her pretty new suit wet or dirty so she took it off!
Another of my favorite "little Buzzy" stories...

We were having comany. Mama curled Buzzy's hair and put a pretty dress on her. She looked absolutely adorable! When our company arrived, we couldn't find Buz. After much searching, she was finally located sitting in the back of mama's closet softly crying. She didn't like the way her hair looked, and didn't want anyone to see her!

Our Minister's name was Mr. Sandman. He had come to visit and we were having prayer before he left. Madeline came in from playing outside, saw him and started singing the song "Mr. Sandman, bring me a dream.."

With 5 girls, life in our home was never dull!!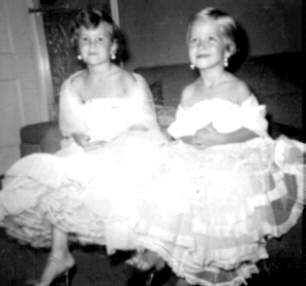 Madeline & Buzzy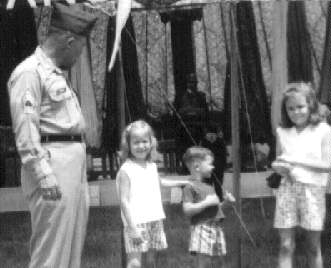 Dad retired from the Army on December 31, 1962 at DGSC, Richmond, Virginia.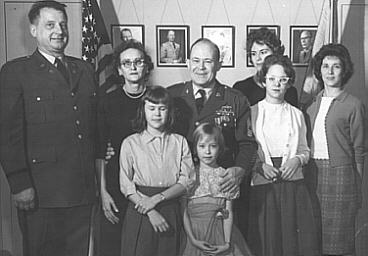 ?, Mama (Mildred Bowen), Daddy (Sam Bowen), Sylvia, Dorene, and Faye
Madeline and Buzzy in front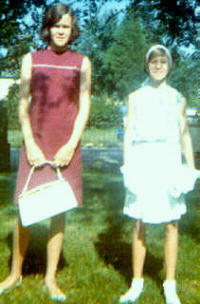 Madeline & Buzzy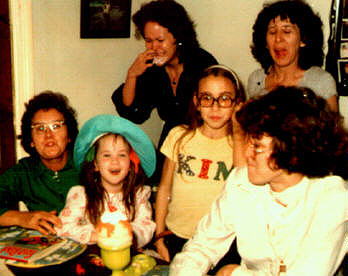 Biggest Bubble - Bubble Gum Contest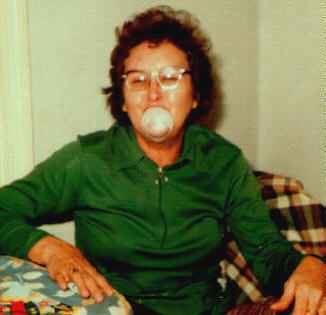 Mom's TheWinner!!!

Index

It is only with the heart that one can see rightly;
What is essential is invisible to the eye.
-- Antoine de Saint-Exupéry,
The Little Prince

Surnames
"Our Flower Garden"