SAM AND MILDRED BOWEN
LIVES AND CHILDREN



HISTORY - PAGE 2
1942

St. Louis, Mo.
We moved to St. Louis, Missouri where Mama's mother (Mama Beulah),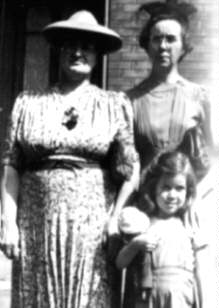 sisters (Aunt Fran & Aunt Ginnie), and brothers (Uncle Bill & Uncle Cecil) were living.
WWII broke out. Daddy enlisted in the army. After basic training, he attended jump school at Ft. Benning, Ga. to train and qualify as a paratrooper. Upon completion he was sent overseas to join the war effort in Europe.
Mama and I stayed in St. Louis while Dad was away.
Favorite St. Louis childhood memories...
~ We lived in a three room, second floor, flat on Montgomery Street. The bedroom was facing the street. Every Sunday morning, Mama and I would watch out the window for the paperboy selling the Sunday paper. When we saw him, Mama would give me the money to go down and buy a paper. I'd run back with it, jump in mama's bed and snuggle with her while she read the funnies to me.

~ We didn't have a refrigerator. We had an ice box with a section partitioned off to hold a big block of ice which would naturally melt and need to be replaced.

Every few days the iceman would come down the street with his horse pulling a wagon full of blocks of ice. People would call out to him from their windows and he would bring up a block of ice for their ice boxes. He would always chip off pieces of ice for us kids. We really considered that quite a treat!

~ There was also the hot tamale street vendor. In the evenings he would come down the street pushing his cart, calling "hot tamalees....get your hot tamaleeees." Occasionally Mama would let me go out and buy one for each of us. They were so good!
I remember so well the day a telegram was delivered. Mama was so afraid that it was to inform her of Daddy's death, she couldn't open. She could only look at it and sob! Luckily we lived near Mama Beulah. Mama grabbed me and we went to her. She finally convinced Mama to at least open it to see what it said. What a relief to learn he had been wounded in action, not killed!
September 24
St. Louis, Mo.

Sylvia Sue Bowen was born

Mama had a long hard labor and difficult birth. I stayed with Mama Beulah while Mama was in the hospital.
I will never forget the wonderful feeling I had inside when Mama came home, bringing baby Sylvia! Immediately she had me sit on the sofa, placed Sylvia in my arms, and told me this is YOUR baby sister! I felt a love and pride that I had never felt before! I thought she was so beautiful!
As a newborn, Sylvia developed a ruptured navel. All to well, I can remember mama crying as she taped a silver dollar over Sylvia's protruding navel. Her tiny tummy was sore and raw from the tape. The doctors had hopes this treatment might correct the problem. It was all in vain. Tiny Sylvia ultimately had to have surgery.
Sam only knew his infant baby daughter through letters and pictures until the war was over and he could return home.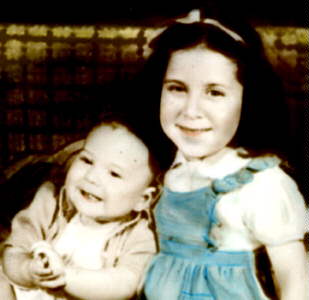 Sylvia and Faye (Age 5)
Mama had a photographer come to our home to take this picture to send to Dad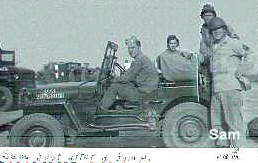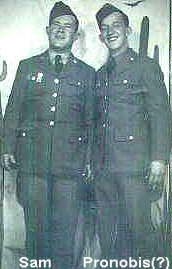 Index

It is only with the heart that one can see rightly;
What is essential is invisible to the eye.
-- Antoine de Saint-Exupéry,
The Little Prince

Surnames
"Our Flower Garden"