SAM AND MILDRED BOWEN
LIVES AND CHILDREN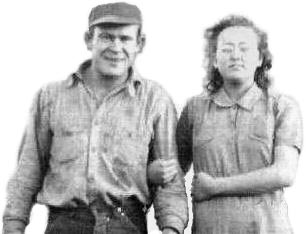 Married July 3, 1940, Salt Lake City, Utah

Samuel Blair Bowen

b. 05 Jul 1913, Decherd, Tn.
d. 04 Feb 1988, Richmond, Va.

Mildred Susie Nunley

b. 01 Sep 1921, Tracy City, Tn.
d. 13 Oct 1982, Richmond, Va.
Where is home?
Home is where the heart can laugh without shyness.
Home is where the heart's tears can dry at their own pace.
History
| | | | | | | | | |
| --- | --- | --- | --- | --- | --- | --- | --- | --- |
| Tennessee | | St.Louis | | Colorado | | N. Carolina | | Virginia |
The Growing Up Process
By Erma Bombeck

I see children as kites.  You spend a lifetime trying to get them off the ground.  
You run with them until you're both breathless... They crash... they hit the 
rooftop... you patch and comfort, adjust and teach.  You watch them lifted by the 
wind and assure them that someday they'll fly.

Finally they are airborne.  They need more string and you keep letting it out.  
But, with each twist of the ball of twine, there is a sadness that goes with joy.  
The kite becomes more distant, and you know it won't be long before that beautiful 
creature will snap the lifeline that binds you together and will soar as it is meant 
to soar, free and alone.

Only then do you know that you have done your job well.....
"Joy"
Depicting the Joy of Sisterly Love
Reverse Painting by - Buzzy Bowen Manning, December 1996
Daughters
Gloria Faye BowenBorn: 9 May, 1938
Tracy City, TN

Sylvia Sue BowenBorn: 24 September, 1943
St. Louis, MO

Evea Dorene BowenBorn: 29 January 1947
Ft. Bragg, NC

Madeline Chloe BowenBorn: 11 July 1952
Ft. Lee, VA

Teresa BowenBorn: 18 June 1953
Ft. Lee, VA
Died: 23 June 1953 (5 days old)
Sunset Memorial Park
Chester, VA

Geraldine Bowen
(Buzzy)Born: 18 June 1953
Ft. Lee, VA
CHILDREN
By Judity Dekker
To make a child, God spilled out sunshine.
It pooled beneath His hand to form a smile.
Their eyes He formed from dewdrops in the morning
So sadness could just linger there awhile.

God knit the child's frame together with a spring breeze
So in their every movement there would be grace,
And warmed their heart with kindling made of kindness
So all would see the caring in their face.

And then God wrapped them gently in a rainbow
Spun for their spirit - beautiful to see!
And said "Whoever looks upon a small child
Shall know, deep in his heart, that he's seen Me."
Grandchildren
Mother - Gloria Faye


Melvin LeRoy Cochran,Jr.
(Mel)B. 6 August 1957, St. Louis, MO
D. 7 March 1988, Bothell, WA
Burial: Abby View Cemetery
Briar, WA

Mildred LeAnne Cluckey
(Milly)B. 7 July 1974, Seattle, WA

Mother - Sylvia Sue


Kimberly Ann Rueda
(Kim)Born: 25 June 1969
Philadelphia, PA
Mother - Evea Dorene

Robert Edward Hersey
(Bob)B. 18 April 1967
Portsmouth, VA

Andria Lynn HerseyB. 8 May 1969
Richmond, VA

Susie Blair Fritsch Born 16 December 1982
Seattle, WA
Mother - Madeline Chloe

Marguerite Blair Bowen Roberts
(Maggie)Born: 29 August 1987
Richmond, VA
Mother - Geraldine (Buzzy)

Jennifer Dawn ManningBorn: 19 May 1980
Aruba

Samuel Aaron Manning
(Sam) Born: 21 January 1985
Houston, TX

Simon Alexander Manning Born: 14 September 1989
Houston, TX
Sleep, my child, and peace attend thee,
All through the night.
Guardian Angels God will send thee,
All through the night.
.. Sir Harold Boulton
Great-Grandchildren
Mother - Andria Lynn

Tyler Reece Hersey HoughtonBorn: 14 May 1992
Seattle, WA
Mother - Kimberly Ann

Lindsey Sue HerringBorn: 14 April 1997
Fayettville, NC
(Click for a hug)
Love bears all things, believes all things,
Hopes all things, endures all things.
Love never fails.
--1 Corinthians 13:7-8
Misc. Pictures

Index

It is only with the heart that one can see rightly;
What is essential is invisible to the eye.
-- Antoine de Saint-Exupéry,
The Little Prince

Surnames
"Our Flower Garden"