SAM AND MILDRED BOWEN
LIVES AND CHILDREN



HISTORY - PAGE 3
1945
Spring/Summer

Dry Creek Basin, Colorado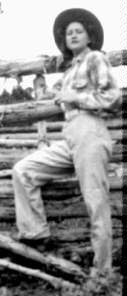 The war was over. Dad returned home and was discharged from the army. Jobs were scarce. Uncle Alton and Aunt Birdie still wanted Dad to work for them, so the family, then consisting of Dad, Mama, myself and Sylvia, moved to the ranch in Dry Creek Basin, Colorado.
The ranch was situated in a valley surrounded by breath takingly beautiful snow covered mountains. There were only widely scattered ranches in the area with the closest store, or business of any kind, being many miles across the mountains in Montrose or Redvale. Still being a child, I didn't realize the actual difficulties and work involved in living in such a remote area without electricity or indoor plumbing. To me, it was near Heaven. Uncle Alton gave Sylvia and I our very own horses. Sylvia's was "Jeep" a brown and white spotted pinto pony and I was given "Brownie".
Brownie and our big white furry dog, Cotton, became my babysitters and constant companions as I freely roamed the woods etc.
We had two milk cows. Every morning they were set free to roam and graze at will. In the evening, milking time, we could always hear their bells as they came up the road toward home. Occasionally, they didn't show up. It was my job to get on Brownie and go find them and bring them home.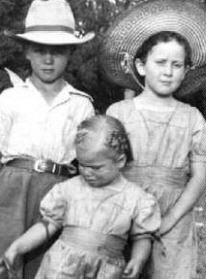 They weren't the smartest of animals. They would usually be stuck behind a fence somewhere or on the wrong side of a gully, "mooing" loudly, calling for me to come help them.
Dry Creek Basin is where I learned to appreciate the beauty of a sunset. I can still close my eyes and visualize the blazing sky with the surrounding snow capped peaks reflecting it's glory! It wasn't something to be seen, it was more something felt - experienced!
Dad's job consisted of assisting Uncle Alton with all the many tasks involved in running and maintaining the ranch. They ran the ranch with very little outside help. They raised cattle, horses, a few sheep, and chickens - as well as hay, to feed the livestock, and vegetables for the family. The ranch was almost completely self- supporting, requiring trips to town to buy necessities only once or twice a year.
In the fall, I attended 2nd grade at our local school - a one room schoolhouse. Actually there were two rooms, a classroom and another larger room used by the ranching community as a meeting place for square dances, parties, etc. Since it was such an isolated area, this was the communities only source of entertainment and social activities.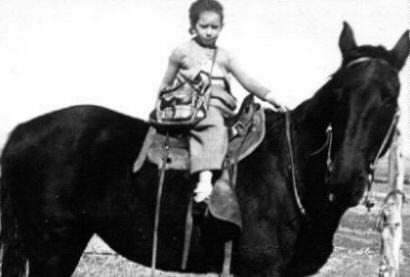 Me aboard my school bus, ready to go!
Brownie, became my "school bus" to transport me to and from school. I don't really know, but I seem to remember hearing that it was about a 3 mile trip.
The teacher, Lucinda Sullivan, had a total of 12 pupils of various elementary age and grade levels. For me it was a wonderful time. If the weather was nice, we would have classes outside. It was there that I saw my first airplane! We were in class and heard it. Having never seen an airplane before, we all rushed outside to watch in awe as it flew across the sky.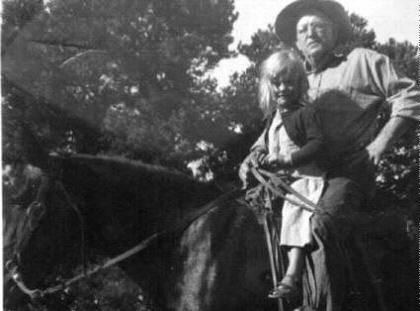 We lived in the ranch's extremely small bunk house. Aunt Birdie and Uncle Alton lived in the main house, which really wasn't much better. Fall turned into the snowy, bitter, below zero, cold, winter typical of the area. The ranch had no electricity or running water (outdoor well and bathroom). It was an extremely difficult time for the family trying to maintain above freezing temperatures inside our drafty home. The only heat source was a wood cook stove in the kitchen.
Baths were taken in a big galvanized tub in front of the kitchen stove. Water brought in from the well, bucket, by bucket, warmed on the stove, then transfered to the tub.
Laundry was done outside with a scrub board in another big tub sitting over a fire to heat the freezing water. The clothes were dried by hanging them around the kitchen stove.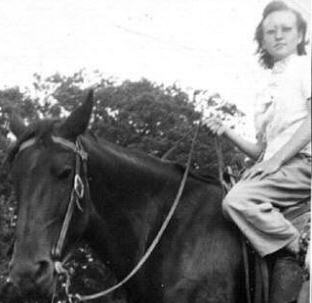 Index
It is only with the heart that one can see rightly;
What is essential is invisible to the eye.
-- Antoine de Saint-Exupéry,
The Little Prince

Surnames
"Our Flower Garden"